"I'm called 'new agey' by the Christians, and the non-Christians call me a Christian fanatic." -- Howard Storm, Vampire author Rice gives lift to pastor's 'Descent'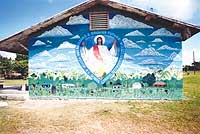 The Rev. Howard Storm painted this mural on a trip to Belize in 2001. Zion UCC photo.

In 2001, Storm, a former art professor, painted a 40-by-18-foot mural of Jesus Christ looking over the village of San Victor.


When I called his UCC church in Norwood, Ohio, on April 18, 2005 (the day after his last Sunday there, as pastor), Howard answered the phone, and said he planned to reside in Fort Thomas, Kentucky, making occasional trips to the Maya in Belize.
He's hardly acted much like a "con man", or a cult leader -- no organization, not even a website -- his email address is howard_storm@juno.com (he doesn't even have a domain name).




---